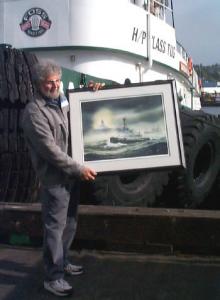 Art, Illustration and Commercial Art Discussion and Comments

Greetings everyone: Feel free to use any discount codes that may be available for my artwork.

September 2016 I have been working on a new color palette and new ideas for maritime, landscape and wildlife art. As you can tell I can go from super detail to a more loose style. And also change subjects from landscape to tugboats. This is a good thing as it keeps the artwork looking new. As per my earlier blog notes I am moving in the same direction adding more color and expand technique. Improving basic skills of rendering adding expression and mood. Applying a bit of character, style and feeling to my work. And its always a work in progress. I'm in a river of creativity.

James Williamson here: As you may have noticed I have been uploading a variety of tugboat drawings. I have been creating tugboat artwork, especially for FOSS Maritime tugboat company, for many years. I have found that as an illustrator I have a 'capacity' to create quality drawings that enhance the full color paintings. Drawing is an important skill behind the ability to render in watercolors, oils and acrylics. And drawings can be a very important part of your art collection.
Artist: James R. Williams

February 2014 New images have been added to my selection of art at Fine Art America since my last Blog update in 2012 !
I have been experimenting with more color, loose technique and various subjects.
Landscapes, wildlife and maritime paintings.
I have also added some of my earlier work in pen and ink, watercolor. Detailed illustrations of maritime history. Most of these paintings depict Pacific Northwest martime waterfront subjects.

I have also added new paintings of tall ships created in 2014. Note the brighter color and detail of these new paintings. And the vessels selected for painting are from a variety of countries.

I am back in the studio and preparing to create a range of new artwork. Stay tuned.

And thanks to all of you that have sent such positive and encouraging comments about my artwork.


ART OF THE SEA, LANDSCAPE & WILDLIFE

I began creating artwork of the Pacific Northwest in 1975. I attended Northern Michigan and Western Washington University after completing military service in the United States Air Force. Over the years I have created thousands of original paintings and limited editions of local and regional subjects. My style and ideas have changed and continue to expand. Given a 'special talent', I am committed to creating memorable images of our life here in the Pacific Northwest. Subjects include the natural beauty of the Pacific Coast, inland waterways, islands, beaches and mountain wilderness plus native northwest themes and wildlife including herons and eagles as well as the expanding presence of industry and military subjects. Researching paintings for such diverse subjects I have become aware of Pacific Northwest history, the beauty of our environment and the increasing power of industry and military strength existing together in a fragile balance.

MARITIME, INDUSTRIAL & MILITARY ART

I have created artwork for companies such as: FOSS Maritime, Boeing, Raytheon, Conoco-Phillips, Exxon, HORIZON Shipping Lines, SAMSON Tug and Barge, and Canada Steamship Lines, the United States Navy, Air Force and Coast Guard. My Original illustrations include tugboats, fishing vessels, rocket test facilities, oil refinery vessels and projects, and shipping companies. My originals and limited editions hang in thousands of executive offices, boardrooms, bank lobbies, government buildings, fashionable restaurants and private residences throughout the United States and many other countries. I have also created illustrations for posters, greeting cards, telephone calling cards and credit cards issued throughout the world.

The Studio: This is where the greater part of my artwork is created. All of the tools necessary to produce artwork are brought together; desks, lighting, paper, brushes, paint and research materials. Most of my large, complex and demanding images as well as smaller, less detailed originals are created here. I also create work during gallery and art show demonstrations and 'on-scene' when I am out researching a subject.

Media: I am currently creating artwork using transparent and opaque watercolor. Particular subjects also include pen and ink, colored pencil combined with watercolor. I also create pencil drawings and pencil combined with watercolor.

Motivation for Creating Various Subjects
My 'reason' for creating various themes include, but are not limited to, requests for illustrations from industry and the military, owners of fishing vessels, tugboats and other working craft and owners of sailing vessels and related companies. I also create artwork for collectors and galleries requesting images of the Pacific Northwest landscape and wildlife. I consider myself as an illustrator and artist with a 'special ability' to listen to my customers and collectors. I also 'listen to myself and nature' and find interest in a variety of subjects and continue to refine and expand my knowledge of creating art. I enjoy the positive reaction to my artwork and continue to create images that have value and meaning to those in industry and private collectors.